Covenant Seraph: Set number 97015


Build Time: 20 minutes sorting, 45 minutes build. Total 1 hour, 5 minutes.
Set Piece count: 566
Minifigs, Weapons and Accessories: Gold Elite General with gold parts to make a Gold Elite Ultra, Blue Standard Elite, Blue Flight Elite; Focus Rifle, Needler, Needle Rifle? Could be the Plasma Launcher, not sure.
Special Features: Opening and Closing Cockpit hatch
Dimensions: Seraph H 3″ W 9″ L 18″ / Stand H 4.625″  W 3.25″ L 3.25″
Price/Value: $65US
The set has 566 pieces. All but about 5% of the pieces go to the seraph. It's a fairly long set at a foot and a half long.  Though it's not very tall. So if you have a large shelf space it may fit. I had to do some research on the game color of this starfighter. I thought it was more the wine color that the Revenant is. The model is close though in approximation of color. While I'm not a fan of the ship so much in the game, the MEGA Bloks model is excellent. The build time can be done in one sitting and there is much repetition to make it an easier build.
Now for what you really want, the pics:
Click on images to see a larger version.
The beautiful box art. Loving the new Master Chief Armor.
The contents of the box (so much grape purple!):
Pieces sorted (sorry for the drink containers in the corner. A man's gotta drink!
The build begins:
Now that it's complete we go to the stand: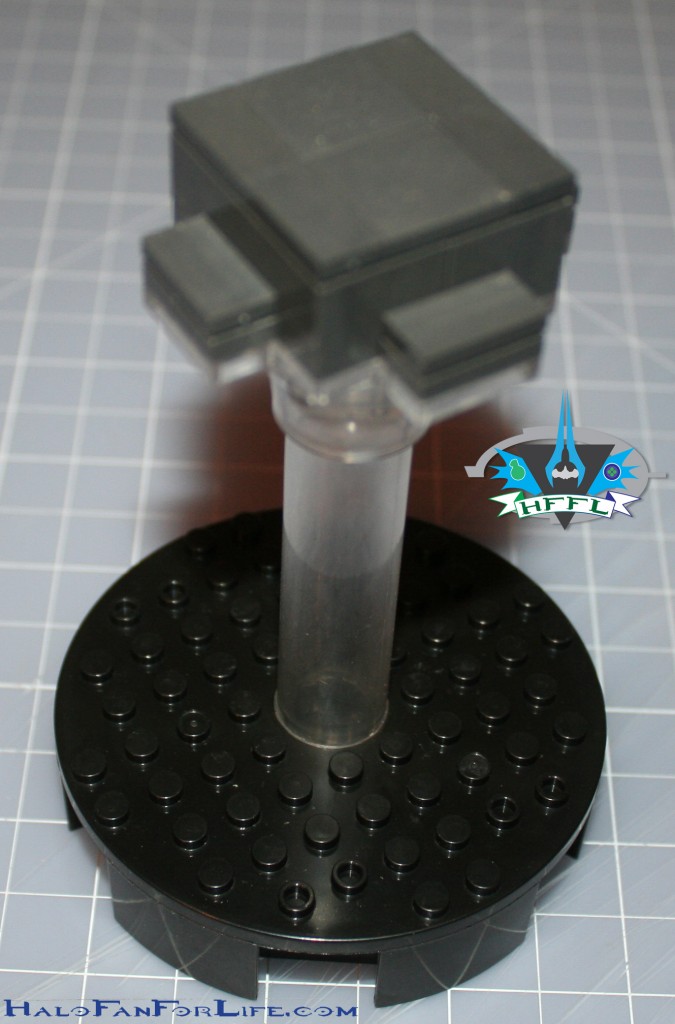 The minifigs and weapons:
As with many MB sets there are stabilizing pieces to keep the model flat on your building surface. They are often a very different color from the rest of the model to easily identify. In this case yellow. Here are those bloks, plus the ones left over. (I was able to make a pseudo-mini Seraph from those bloks):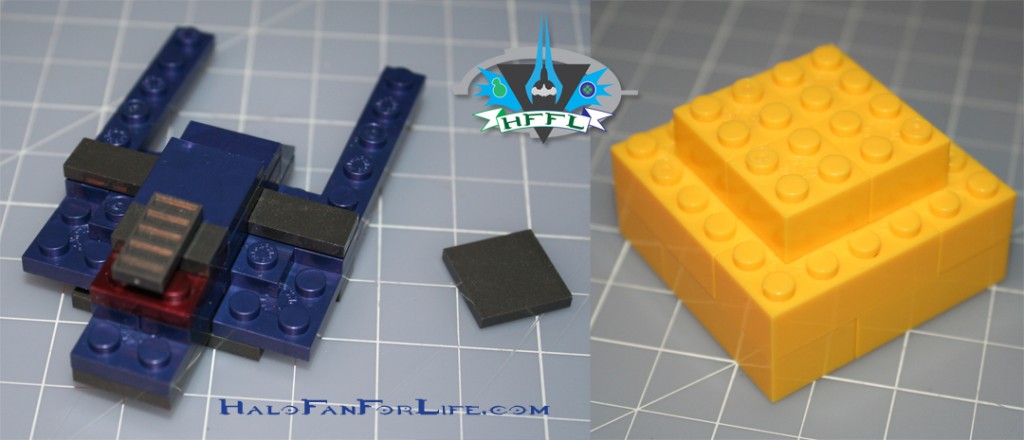 Summary: At $65US, this is a bit expensive for the set. Since the set includes 566 pieces,   I'd have put the cost at between $55-60US. I go by the general rule of 10 cents per piece. So $56.60 would have been the price I'd have liked to see. However, that being said, it's a large set and for those who want some covie purple bloks to make customs from, this set has you covered.
Overall Rating: 4 out of 5 medals. The price is really the only drawback to this set. The model itself is great and the stnad really makes it pop off where ever you display it at.