In case you were wondering why no artixcles this past weekend…I was at RTX! I saw some cool stuff and had a bit of fun along the way. So without further ado, let's get into the recap of my experience at RTX Austin 2017!
Day 0, Thursday July 6, 2017
I'm calling this part Day 0 because while it wasn't RTX itself, it most certainly was related. RTX started on Friday July 7. I flew down to Dallas to meet my bud, fellow gamer and Spartan Company member, Dij. No, not Deej from Bungie.
It was an early flight out from Pittsburgh at 6am. The security lines were long and I almost didn't make it to the flight. When I got to the gate, they were just finishing up boarding with about 4 people left to go. So I just made it!
I sat down next to a young lady who was all to happy to talk politics with me. Normally I wouldn't have a conversation like this in person with a stranger, but thankfully she had the same viewpoints as I, so that made the 3 hour flight from Pittsburgh to Houston go by fairly quickly. Yep…layover in Houston.
Once in Houston, I had about 40 minutes til my next flight. No time to delay as the gate was on the opposite side of the airport. So I had to hustle passed other hurried passengers to get there on time. I made it with a few minutes to spare. Nothing remarkable on this leg of the trip. From Houston to Dallas is was not even an hour flight.
I met up with my bud Dij and off we drove to Austin. When we got there, we had to go straight to the Austin airport to pick up a couple other friends, Isaiah and Pedro. Isaiah is a Spartan Company member and the same fella who makes those cool pipe cleaner figures I've featured here on the blog. You can find most of those articles here: http://halofanforlife.com/?s=pipe+cleaner&submit=Search.
From there it was a short jaunt to the bus station to pick up the last of our group for RTX, Cameron.
We got some supplies, then went to the hotel, unpacked, played some games, then hit the hay, ready for an early first day of RTX.
Day 1, Friday July 7, 2017
At long last, my FIRST RTX! Thing is, I didn't go for anything Rooster Teeth related. I went for the HALO booths and to meet friends I've known only via gaming and not yet met in person. Now, I know some of you must be thinking what a waste. I say, exactly the opposite. I had a GREAT time!! There was enough Halo representation there for me to enjoy the con, plus I got to mingle with other fans. Hmm, though I do think it's about time we have a Halo centric convention, don't you?
The lines!


The pic above doesn't do anywhere near the justice of just how long the lines were. This was just people in the lobby.
We got to RTX at 9am. It didn't open until noon. The next 2 hours were spent waiting in line for our weekend badges. After that, the line to get in was so VERY long, that I decided I'd for awhile until the line thinned out and then just mosey on it. I had hoped that would happen around 1pm. Nope…wasn't until 3pm that the lines finally started to wane a little. The issue was security. There were only 3 metal detectors for what were tens of thousands of people. Around 2pm or so another detector was brought out.
Funny thing is, I asked one of the "guardians" (those are folks who volunteered to help at the convention) if there was another line for people with disabilities. He said yes and directed me to around the corner. I was able to just go right in. Dang, if I had known that 3 hours prior. Oh well, live and learn. At least I knew I could get in quick on Sunday and Saturday.
So, what was the first thing I did when I finally got into the exhibition hall? I went STRAIGHT to the 343 booth! There I was greeted by Bravo, who remembered meeting me 5 years prior at NYCC 2012. As well, I met Unyshek and Grim. Any I've had the pleasure of gaming with twice in Halo 5. Grim I haven't yet gamed with. However, we've talked quite frequently via twitter, so he was well familiar with me.

Left to right: John "Uny" Unyshek (Halo Community Coordinator), Me, Jeff "GrimBrotherOne" Easterling (Halo Lore Wizard Extraordinaire). Andy "Bravo" Dudysky (Former Community Manager, now Senior Producer with 343).
After chit-chatting with the 343 guys for a bit, I strolled on over to the 405th booth.
405th
For those that don't know, the 405th is the premiere Halo Cosplay group!

The ODST banner in the pic above was really cool to see in person.

The fellow with the beard to the left of the pic above is named Saul. We had a chat, talked armor, prop making, and how to become an official member of the 405th. Incidentally, I'm on their forums, just haven't made the jump to making armor for myself.


Two great looking Spartan Armors. The yellow armor Spartan was a lady, while the black armored spartan was a fellow.
LOOT CRATE
Loot Crate had a booth setup, just behind the 343 booth. There they showed some of the previous Halo crates from thefirst series. three of which were on sale. Sadly, not the Buck crate. That's the only one I missed. More on that later though.
Above and below are two shots of the completed Halo "ring" of Loot Crate figures. No, Chief doesn't come with the Hunter, but it's cool knowing that he can be posed like that though.
Loot Crate was taking orders for the next series of Halo Crates. If you got a 1 month subscription you got an exclusive pin. If you got 3 or more months you got the exclusive Spartan Vs Spartan figure set.


Sadly, I didn't have a credit card with me and they were not taking cash… They were sellign the whole ring of figures for $120. I asked if they would be selling the figures seperately as I only needed the Buck figure. One lady from Loot Crate said to come back Sunday as they might be. Hmmm…
Extra Life
My last booth stop of the day after walking much of the exhibition floor was Extra Life. HaloFanForLife.com has been a proud participant of extra life a few times. I missed it last year, but most definitely will be signing up this year. If you care to join on the team for that, send me an e-mail, sal@halofanforlife.com.

At the end of day 1, Dij, Isaiah, his friends and I went to In and Out Burger. My first time there. It was good. Though, I don't get the draw. It's not super quick and the menu is very limited. WOuld I recommend it? As a one-time stop to say you've eaten there, yes. Otherwise, it's kind of meh to me. After this we went back to the hotel and played Quip Lash for hours until we all got tired and went to sleep.
Not many pics the first day. As I mentioned, I got in late to the hall. More pics for day 2. Speaking of…
Day 2, Saturday July 8, 2017
Avoiding the lines to get into the exhibition hall, my bud Dij and I went straight to the room for the Halo Panel. There was a panel for another game already going on, so we waited across the hall to get in. The guardians weren't allowing anyone to line up until the panel in the room was about an hour in.

Once allowed to get in line, I quickly (for me quickly) stepped into the first spot! Above is the line within the first few minutes of being allowed to assemble. Don't let the gaps fool you either. Those had to be there to allow for people to leave the panel rooms. You can see the line was much thicker towards the back of the pic!

People sat and played games or talked while waiting for the Halo panel to begin. Dij and I met a boy and his mom from North Carolina, though previously they were from New York. Nice folk!
Hey look! A wild Ducain23! Ducain and I go back a ways. I've tested some of his maps going back to Halo 4. One of the firrst ones was a Warthog King of the Hill map. Was nice to finally meet him in person. I already knew he was a nice fellow, but he backed that up in person!
More great Halo cosplay!

An ODST, Catherine Halsey (the only one at RTX!) and an Reach era Spartan.

I had been taking my backpack off and on so much that I developed a shoulder strap burn on my forearm. Yeowch! I learned from this though and kept my iPad out and put my business cards in my wallet. That kept me from having to remove my backpack most of the time.
Halsey again. She had this neat etched data pad.

A Recon Spartan. Hey fella, watch were you point that thing! You could poke someone's eye out!

This young kid had a nice ODST armor. His first, from what I could tell.
Okay, so yes, there WERE other cosplay about. Figured I'd snap a pic here of some of the RWBY cosplayers. There were LOTS of Ruby The one in red/black) cosplayers. Really dug the huge scythe they were all carrying.
Oh and this Majora's Mask from Zelda was awesome!
The Panel
Finally the doors opened to let us in to the panel. VIPs/Media got to sit first, hence why we were back a few rows. Hmm, next time I go, I'm definitely getting a media pass to represent the blog! 

Very cool to see Frank and Tom there! And to my surprise, Joe Staten was there as well!!


Saul was the fellow in the ODST armor above. He had a special role to play later in the panel.


Chief was there. This was a bit far away, so I didn't get a crisp shot. Below he's … gulp…unhelmeted! Along with Cortana.
The opening minutes of the panel were about Halo news. Nothing really new that hadn't been said in the last week. To reiterate though, Halo CE Anniversary, Halo 3, Halo 3 ODST and Halo 4 will all be backwards compatible later this year. What that will do to HMCC? Who knows. But I for one will be happy to play the games native without the lag and missing content issue (Halo 4) that plagued HMCC. 
After the news came Halo Match Game!

Ske7ch served as MC while Grim asked the questions. 

Below Ske7ch and the panelists for Match Game. Saul (the ODST) was the final panelist. He didn't talk at all though, just answered questions via grease board as all the others did.
As of this writing, the question slides hadn't been released to the public. Thankfully I had the foresight to snap pics of them. Unfortunately, a cople were to blurry to make out, so below shows all the ones I got that weren't blurry.
Match Game
Grim pulled 2 people from the audience to play. There were a few rounds of questions then the winner was awarded a $99 REQ pack code. All told for full games were play, so 8 lucky audience members got to go up on stage.
I'll post some of the answers I can remember and those who gave the answer.

Tom Staten said "Grundle", while Burnie said "Food Nipple." Burnie's answer became a recurring theme throughout the games.

Cortana was the obvious answer. Tom French answered the janitor, a nod to Frank's Beamish from Forward Unto Dawn.

"Write" was the contestant answer, while Tom said "Work". That was accepted as a match.

"The Rock" was the audience shouted out answer. Someone answered Tom Cruise.

"Super Glue" was the contestant answer. "Glue", "Foam", and Everything were some of the panel's answers.

"Reach", "Buck" were answers.

"Your huge rifle" was the winner.

I immediately shouted Noire. Frank said "Marty" giving a nod to Marty O'Donnel, former composer of Halo music. And still a LEGEND! 

Helmets, cod pieces, bio foam to name a few answers.

Planet, Red Team, were two of the answers.

My answer would have been "Bite". Surprisingly, noone said that. Missed opportunity.

This one got slightly dark…. Marriage was Joe's answer.
Microsoft's Legal Team was Joe's answer. Burnie answered "Dead in the first few minutes of the campaign". Coincidentally, Jul 'Mdama did die at the end of the first mission in Halo 5. 

The "AfterPanel"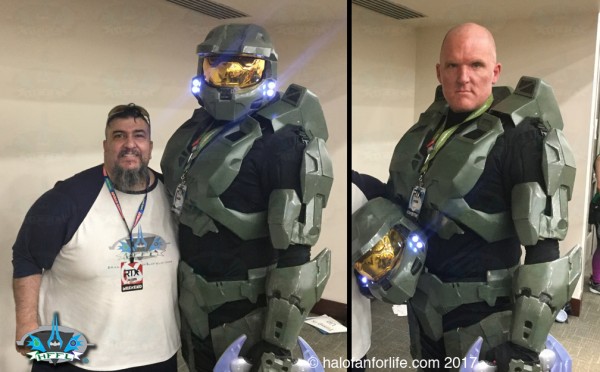 So I just HAD to get a pic with Chief. The armor was fantastic. Normally, Jason (the guy in the armor) doesn't take his helmet off for pics, but I asked nicely and he obliged. Tell me folks, does his face not look like what Chief would look like? We have GOT to make this guy famous! I'd love to see his face be that of Chief's officially. BTW, Jason has an Instgram page. tormtrooperdad/">Go check it out! 
The official 405th pic for RTX, from a different angle.
I got to meet Burnie Burns. This was my second time meeting him. I had met him once prior durign NYCC 2012. You can read about my trip to that Con HERE. (It's split into 6 parts)

Once again Halsey. And below a closeup of the datapad.
Chief, Tom French, Cortana, and Frank O'Conner.
I get to meet Tom for the first time! Frfank the second time. Again, NYCC 2012 was the first.

Tom was awesome to talk to. We talked about Forge and his pet piggy, Olive. In fact, he showed me a video that hasn't been released to the public of Olive. Frank was cool, even though he looked a little dazed above, LOL.

Dustin "Dust Storm" Pettigrew from Podtacular and I. I was a guest on his podcast several weeks running during the Forward Unto Dawn release and through the run of Spartan Ops. This was mostly due in part to the comics I made each week of the episodes. The Spartan Ops comics I made even culminated into a 300 page Graphic Novel! You can see (and download that HERE)
Halo BoomCo!
There was a shooting range of sortson the exhibition floor. Mattel's BoomCo had an area that was attached to the Loot Crate booth.
Here you could shoot either a BoomCo Assault rifle, Plasma Pistol or Magnum at the targets. If you scored at least 50 points, you won a prize. 
I managed to squeeze off the trigger at just enough of the right places to get 100 points. Nabbed this cool Spartan Helmet stress ball. This came in one of the Halo Loot Crate previously. I will be giving this one away at my LAN this year.
After this, I traipsed on over to the big boards where gaming was happening periodically throughout the convention. When I got there, people were hashtagging #RTXAustin and/or #RTX2017. I got in on the fun too.

In fact, my tweet got up on the board! (Outlined in red)

…and if you need to see it for yourself on twitter… The latter part being what was on the board.
I'll be giving the stress ball helmet away, as a prize, at my event LANstravaganza! https://t.co/0vtbPNEZqH #RTXAustin #RTX2017 pic.twitter.com/TXjpAy69SK

— Sal Salerno (@HaloFanForLife) July 8, 2017

Next up, the guys from 343 came out to play some old and new mini-games! Tom French is in the middle of the pic below.
Isn't this a great set-up!
The one mini-game I'm looking forward to playing is "Crossy Roads". In fact, I already have the map and game type downloaded and during community nights this week (Thurday and Friday) we'll be playing this! So come join us, won't you? 
Think of Crossy Roads as Frogger, but set in Halo. It looks intense. None of the players made it all the way across, though one from Rooster Teeth got the furthest.
Behind the singing table at the 343 booth was this height chart. I'm too short and fat, otherwise, I'd have posed in front of it.

While there at the 343 booth, I tried my hand at the upcoming Firefight mode in the Awakening a Nightmare DLC coming in September.

This was on PC and I've NEVER played on PC before. I had no clue how good or bad I'd do. We only got to choose easy or normal. Since it was my first time PC gaming, I tried easy. It was WAY too easy for me. During the match, you have to defend a center core against waves of enemies. This demo included five Banished and Flood waves. The last wave had that giant Flood form. Forgive me that I can't recall its' name, ATM.
Since I killed it on easy, I went to normal. Once again, pretty damn easy. I was a little shocked at how quickly I was able to pick up the controls. I'm not converted to PC gaming, but I think I'm beginning to understand the allure.
Again, while still there, Unyshek came up to me to show me the 343 exclusive Soccer jersey. No folks, this isn't available to the public, sadly. I know right…. I'd LOVE to own one of these. This is definitely something that should be in the Halo store on Waypoint. Don't you agree?
Stopped by the 405th booth again.
This time I got to check out the props more closely. As I have a degree in Industrial Design, I saw these as EASY to make. Now I have to put up or shut up… I'll be working on my first Halo prop and will post in-progress and the final product when completed.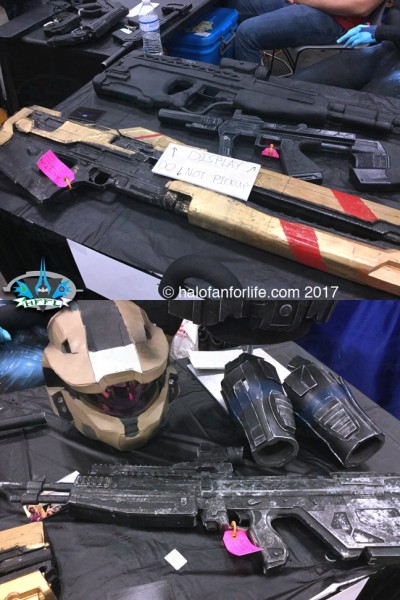 The suits of armor sat on special made PVC pipe displays.
Before I leave RTX for the day, I get the guys at 343 to sign my Hot Wheels Warthog!


Some of signatures include, Tom French, Jeff "Grim" Easterling, Bravo, Unyshek, Ske7ch, and Frank O'Conner. Unfortunately with Frank's his got rubbed out partially by one of the other fellows signing. Heh, he had even drew a Mister Chief on it. You can faintly see to the right of the faded signature a couple of lines. The white box with the two slots was part of the packaged art that Frank used as Mister Chief's eyes. I forgot to take a pic there, thats' why you're seeing one from home. However, if you look photo above that shows the Halo Wars 2 screen, you can see the Warthog there, laying on the corner of the table.
As day 2 of RTX closed, my friends and I, on the way back to the hotel, were looking for somewhere to eat. They settled on Cicis pizza. Ugh….I'm NOT a fan of this place. Ate there twice before and got sick after. And guess what? Yep, the third time was not the charm. Once again, I got sick. Thankfully it passed within a few hours and 4 trips to the bathroom. But still… I think my name for this place is now Feces Pizza. I mean, 3 times going there, 3 times sick?
Day 3, Sunday July 9, 2017
Early morning rise. Isaiah and his friends had to go home as they only planned for 2 days. Dij drove them to the bus station and airport respectively.
Once back at the hotel we crashed for a couple more hours. The panels Dij and I wanted to see weren't for a few hours yet anyway.
Once we got to RTX, I looked up the panel I wanted to go to. Ugh, it was in another location. My back and legs were in so much pain from the previous two days of walking and stadning that I just couldn't do it. It wasn't a Halo panel, so not a huge deal.
I spent some of day three at the big board watching gameplay. One game in particular caught my eye. Battlesloths. A rather simple game, but looked like a lot of fun. The main jist of the game is that you collect pizza slices to win. Along the way, you obliterate your enemy sloths and steal their pizza. Lots of different weapons and Sloth skins to choose from.


The game was on sale during RTX. Not sure if it still is though. I recommend it, especially if you don't mind simplified graphics.
One last cosplay shot. This time it was Tracer from Overwatch.
Now back to that Loot Crate… Indeed they were selling the figures individually. I was able to get my Buck finally. Now the circle is complete. I still want the actual crate stuff, but the figure was the most important piece in the puzzle. Figuratively and literally.
And finally, my tired body just had to take a break. I sat on the floor to rest and decided to take one last shot of the exhibition floor. THere aren't many people in the shot because it was late on Sunday. Also, the exhibition floor was WAY larger than what you are seeing. So don't take this photo as the end all be all of RTX. It doesn't do it justice.
Dij and I went back to the hotel. Thankfully, I was able to catch the latest episode of Fear the Walking Dead and Talking Dead. Then I felt dead enough myself and passed out.
Day 4, Monday July 10, 2017
Though RTX was over, I had one last day of experiences for this trip. I had to catch my flight in Dallas, so Dij and I were on the road. We stopped about halfway through at a place called Rudy's. Finally I got the brisket I had so been craving from well before RTX and it did NOT disappoint. I was tasting it HOURS after eating it (in a good way).

First you got in line, picked your sides, then ordered your meat. Note down and to the right of the umbrella. The silver trough held ice cold beers of all kinds. BTW, I didn't drink any alcohol at all this whole trip. 

Here's Dij. Really like this kid. Has a great head on his shoulders. If I ever had a son, I'd want him to be like Dij.
Apparently, this location of Rudy's once used to be a mechanic's shop. You can tell by the roll doors on the ceiling.

Once in Dallas and at the airport, Dij and I parted ways, him to his home and me to my flight to Atlanta, the third leg of my air travel.
Time to say goodbye to Texas. Perhaps I'll see you again next year for RTX?!
I got to Atlanta just fine. However, once I got to the gate the ticket had printed on it, I was told it got switched to another gate. Ugh…this was frustrating to say the least as I didn't have a long layover. Knowing I might not make it as I was walking slow due to the pain, limping along nwith my cane, I got one of the airport workers to wheelchair me over to the correct gate.


Here's me looking tired and grumpy. I wasn't grumpy at all though. Just tired and in pain from all the excercise I got over the previous 4 days.
Well, I got my flight to Pittsburgh and landed just after midnight Monday going into Tuesday.
It was a beautiful day. Even better to see from the sky!

Though it was cloudy, that made for some great pics from above.
Dusk was upon me. Time for a quick nap before getting home.
And finally, flying by downtown Pittsburgh (just high of center).
Glad to be home, on solid ground and seeing my wife and dog again. It was a fun trip.
Now here I am finishing this article on Wednesday July 12. I'm still sore…but I had a good time and even greater memories.
-Sal